FACE MASK with PM2.5 filter. Custom Design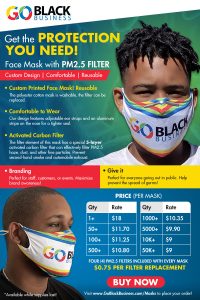 Custom printed Face Mask! Reusable:
The polyester cotton mask is washable, the filter can be replaced.
Comfortable to wear: Our design features adjustable ear straps and an aluminum stripe on the nose for a tighter seal.
Face Mask with Filter: The filter element of this mask has a special 5-layer activated carbon filter that can effectively filter PM2.5 haze, dust, and other fine particles. Prevent second-hand smoke and automobile exhaust.
*Addition filters are available
Branding: Perfect for staff, customers, or events. Maximize brand awareness!
 Give it: Perfect for everyone going out in public. Help prevent the spread of germs!
BUY NOW: CLICK HERE TO PURCHASE