NEWSLETTER SPONSORSHIP & ADVERTISING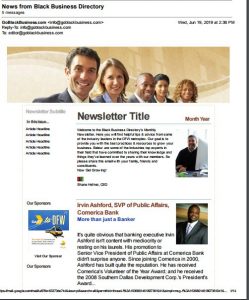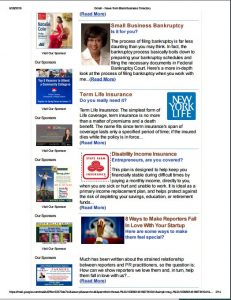 TITLE SPONSOR cost is $1500 which is the "Brought to you by" tag as well as the Top placement as Topic Contributor of the Newsletter each month and would include you a Side Block & Footer Ad on each Newsletter.
NEWSLETTER CONTRIBUTOR cost is $600.
Which means you'd have (12) months to promote, advise, and provide valuable information and resources to our database of over 48k members plus all of our social media platform followers.
SIDE BLOCK AD cost is $300 for the 2021 Newsletter for all (12) months.
Deadline to claim your spot is November 1, 2020.
Deposit of 25% due on or before November 1st, 2020 and balance can be paid in (3) equal payments.
Deposit is non-refundable
The Black Business Directory's Monthly Newsletter goes out electronically every 1st Monday of the month.
The Black Business Directory's Monthly Newsletter will help you find helpful tips & advice from some of the industry's top leaders in the DFW metroplex. Our goal is to provide you with the best practices & resources to grow your business. We are looking for experts in various field that are committed to sharing knowledge and things learned over the years with our members, and with people looking to growing their business. So whether you are providing tips, advice or just great resources, contact us TODAY!
INDUSTRY TOPICS:,
FINANCE, BUSINESS, CONSULTING, PHOTOGRAPHY, BEAUTY, TRAVEL, INSURANCE, TECHNOLOGY, HEALTH, FASHION, MARKETING, AUTO,  NONPROFIT/COMMUNITY, TAXES, FOOD/CATERING, CONSULTING, COUNSELING, SOCIAL MEDIA, SELF CARE, MOTIVATIONAL, RETAIL, HOME REPAIR, INTERIOR DECORATOR, WEB SERVICES, GOVERNMENT AGENCIES, BANKING, COMMUNICATION, ADOPTION, ELDERLY CARE, FUNERAL COMMUNITY SERVICES, REAL ESTATE, EVENT PLANNING, ACCOUNTING, POLITICS, SPIRITUAL, ANIMALS, LEGAL, EDUCATION
We only have (1) Expert per industry.
Call 866-834-3932 or Email us at info@GoBlackBusiness.com