www.GOBLACKBUSINESS.com is the extended online version of the Black Business Directory, and serves as a vital resource tool for locating businesses that are African-American owned or that serve the African-American Community. 
www.GOBLACKBUSINESS.com offers FREE business listings as well as a host of other services and products that are designed for business growth and for maximum Marketing presence.
Reaching more than 800,000 consumers, this powerful tool is easily accessible, and is simple to use.
Besides our online service, the BLACK BUSINESS DIRECTORY also offers the following services:
ANNUAL BLACK BUSINESS DIRECTORY- 10,000 copies printed and distributed annually. Thousands of listings and hundreds of advertisers from all areas of business & all areas of the DFW metroplex.

E-EDITION– this is the Digital Edition of the Annual BLACK BUSINESS DIRECTORY which has thousands of business listings, with the ability for businesses to place their ads.
E-MARKETING– we have over 35,000 members in our database that we send out such as ads, flyers, special offers, newsletters and much more for businesses, churches and other organizations looking to get the word out in the most effective and cost saving way possible.
INDOOR DIGITAL BILLBOARDS– we have several locations throughout the metroplex that host our 32″-42″ TV advertising monitors that run static advertisements in restaurants, barbershops, beauty salons, Dr. offices, and retail stores reaching thousands of potential consumers and customers daily.​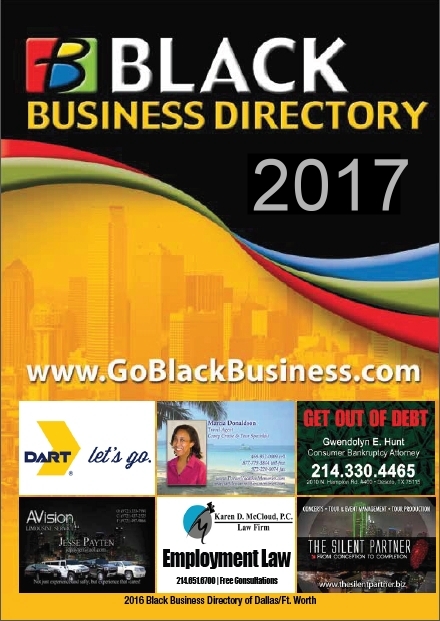 ​CLICK ON BOOK TO VIEW E-EDITION
Other services and products include WEB DESIGN, PRINTING, & AD DESIGN…
For Email Marketing you can trust